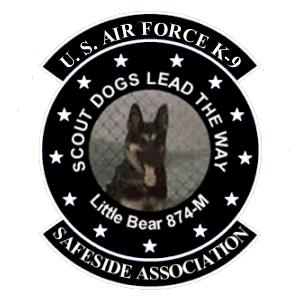 Scout Dogs
The Evolution of the Scout Dog in Safeside
Before, we commence this excursion back to the year 1969, let me introduce myself. I'm a sixty-three old retired Federal employee having served thirty years, ten months, two weeks and four days as an employee of the Department of Veteran Affairs. For eighteen of those years I served as Police Chief in charge of nineteen men and women.
I also served twenty-three years as a Police Officer for Chatham, New York having recently retired.
Believe it or not I'm still employed as a Deputy Sheriff, everytime I try to retire, I get talked into working one more week.
I had three jobs most of my life. I have one son who lives in Chatham, NY and one daughter and two grandchildren who live in Tuscon, Arizona.
My adventures in Safeside, were the most meaningful in my life. Recently I elected to become a Life Member of this elite and special band of brothers. Safeside is where I belong, what a group of men. Once I didn't like being called a misfit and now I embrace the title, we were different. We made our own way and from Lt. Col Wise all the way down the line, we had the best Officers and NCO's and personnel in the Air Force.
In the year 1968 I received orders for Sentry Dog School and after graduation was sent to Forbes Air Force Base, Topeka, Kansas. Forbes had no dogs and I was assigned to Base Police.
A year later in April of 1969, I kept noticing two groups of men running all over the installation one group was Red Horse and the second group was the 821st Combat Security Police (Safeside).
Being assigned to base patrol duties, I decided to make a patrol to the Orderly Room of the 821st CSPS, as I was very interested in joining this organization, that I felt was the "Real Deal".
Upon entering the orderly room I spoke to a clerk and asked how I could become a member of the 821st CSPS? I was directed to the office of Major Robin Baker, who at first thought I was there on some official business as I had my white hat on and all the leather gear that is associated with the base policeman during this time period, I explained that I was a misplaced dog handler, and that I had a primary AFSC of a Sentry Dog Handler. Upon hearing this he directed me to an area adjacent the base Sewer and Water Works to speak to a MSgt Cunningham who was the NCOIC of the 821st Scout Dog Section.
Upon my arrival I saw a small building which was later to become the Kennel Support Building for the 821st Scout Dog Section, I greeted MSgt Cunningham and we had along talk, the Sergeant was the first man assigned and the building needed cleaning, furniture and many things. I told him I was a dog handler and he told me he needed me.
Within a day I became a member of the 821stCSPS and moved my gear from the 313th Security Police Squadron to the 821st CSPS area. I became the second member of this new group and talked another Sergeant and former dog handler into joining the 821st, that was assigned to the 313th Security Police his name was Sergeant Larry Steffler.
While we were waiting on the rest of the troops to arrive, Larry and I decided to clean the support building. The kennel master's office was void of furniture and needed paint etc.
We became very resourceful and got everything we needed from the Civil Engineers, as we knew a lot of their troops as the Base Police Barracks was next to theirs, we then procured a floor buffer, paste wax, brooms. mops etc.
We even got furniture and carpeted the Sergeants office, we had our associates make us an official Scout Dog sign and a desk sign for MSgt Cunningham.
We set up a kitchen, washed windows and got our plumming working, communications gave us two new phones. Sgt Cunningham upon his return from another assignment was shocked by the transformation of the building, how did you guys pull this off, he asked?
We knew he didn't need to know, as everthing was misapproriated we knew what we needed and we knew where to get it and we just did what needed to be done.
Within a week or two another fourteen men arrived and we started erecting fencing and building an obstacle course, our dog houses at the time cost $500.00 each and the only thing that was missing is we had not one dog yet.
We got lumber, more paint, power tools a jeep with a trailer, shelving for the kitchen and even some stainless steel buckets for our dogs, as they have no seams in them and when the water freezes, they will not be effected by the ice that forms. We got them from our medic friends, they used them at the base hospital.
So far there was nothing approriated from official supply channels, we were on a mission and fighting time.
SSgt Scott Baker another handler was a camera buff and took pictures of us designing and building the confidence course of twenty-three obstacles which included a scaling wall, smoke jump, water jump, log walk, window jump, a thin bridge and a thirty foot tunnel.
Each obstacle was painted blue and white with the Falcon displayed on the obstacle. In the center of the course we had formed a circle of white rock with the falcon in the middle. NOTE: After thirty-five years I have found Scott Baker and that rascal has those pictures and many more.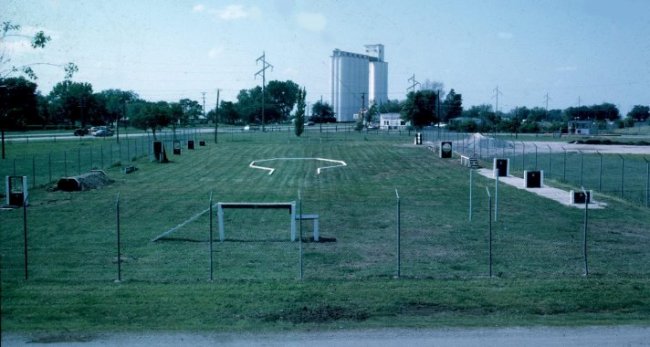 Finaly the orders came down for us to go to Lackland AFB and commence the Patrol Dog Transition Course, this was the course that ended the Sentry Dog. We SafeSide troops were the second group to go through this training, the first were the instructors.
I was assigned Little Bear 874-M and we took to each other right away and looked forward to seeing each other everyday.
These dogs were taught how to attack gunfire, track, escort prisoners, ride in patrol vehicles and were given a course in obedience that would allow dogs to sit next to each other without the fur flying, there was no need for a muzzle, in essence the exact opposite of the Sentry Dog.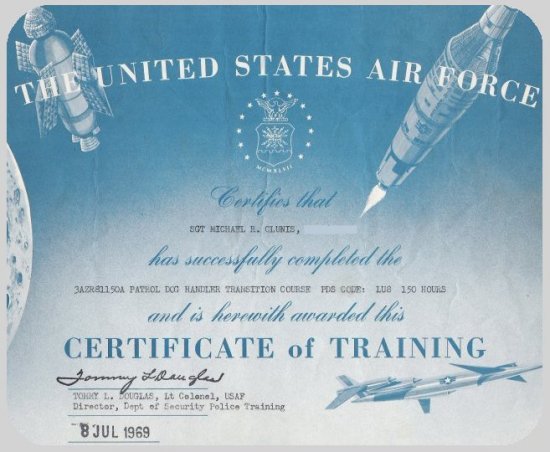 After completing this course the sixteen of us received orders to go to Fort Campbell, Kentucky to begin Scout Dog Training. Fort Campbell had at their kennels another ten dogs that had been assigned previously to the 1041st Scout Dog Section, these dogs were now assigned to new handlers that had been previous Sentry Dog Handlers in Vietnam.
Four of the original dogs and handlers of the 1041st were Intructors. SSgt Arthur handled Goldie, SSgt Edwards handled Nipper, SSgt Linscott handled Rex and SSgt Powell handled Sabre.
Now the story gets interesting. MSgt Riley and TSgt Dover who were apart of the 82nd Wing and the NCOIC and Asst NCOIC of training, never handled a scout dog and thought the patrol dog was adequate for what we needed. Thanks to the four Staff Sergeants from the 1041st this was all changed. Dogs that were taught to track would put you in an ambush as Scout Dogs are taught to use air scent, next you didn't need for a dog to attack gunfire when someone is laying down fire at the enemy. Next the Patrol Dogs had never been exposed to Artillery Fire, this was the day that we were told to muzzle our dogs the exact opposite of what we had previously been informed. This made us all wonder if our new instructors knew what they were doing, sure enough when the dogs were exposed to the sounds of artillery fire, they went nuts and we were glad they were muzzled.
The new command was heads up, with a small jerk on the leash all dogs started using air scent, we were taught WWT, wind, weather and terrain and before the course was over we could detect someone three hundred meters away using this training.
We were then trained on trip wires, land mines, punji pits, food and weapon cache detection, ambush patrols, recon patrols, observation and listening posts, expedient river crossings, repeled from helicopters where you would act as the brakeman for your dog who was in his own swiss seat, after you repeled out you would have your dog jump out and guide him to the ground, that requires one heck of a dog and handler relation.
Also when you want the patrol to move forward when your on point the dog is trained to be disobedient as the dog will stop and push against you to warn you of a land mine or trip wire, the dog therefore is obedient to his training. Your talking about a dog that has to be trained in what is known as Disobedience/Obedience.
The 1041st Instructors were the best and they are my heroes. After twelve weeks, plus the previous five weeks totaling seventeen weeks altogether. We made our way back to Forbes and placed the dogs in their kennels and received orders to start CSPS training at Fort Campbell, needless to say we were all in some shape and the sixteen of us began training with the 822nd, our outfit the 821st was in Vietnam and upon completion of this course we would join them.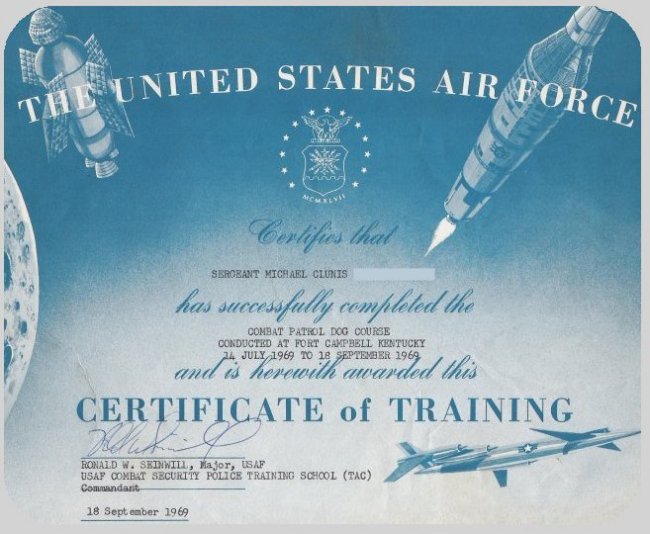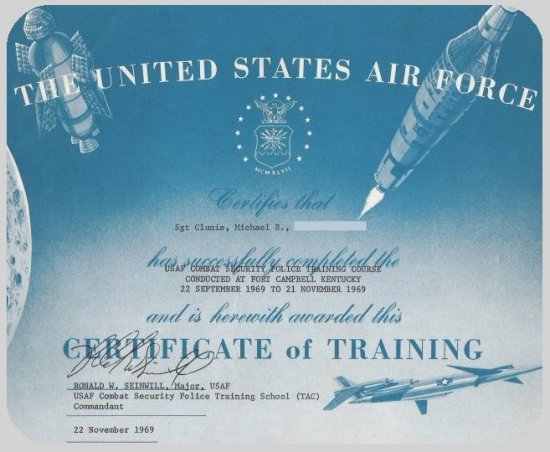 In essence going to a war zone was looking better and better everyday, we needed a break from training. From early May 1969 until mid November 1969 we were in training. Finaly we got back to Forbes Air Force Base and were awaiting orders when the organization was disbanded in December, so we began dismantling the K-9 Section we had created and placed our dogs in shipping crates for deployment to other installations that needed dogs.
No one cared that these dogs were different and that they knew more than most handlers would ever be able to comprehend. I entertained thoughts of stealing my dog as this whole thing was becoming a nightmare. I was due for a retention interview and when I told my story I made my way to the Wing Commander who made a phone call to Langley and was informed that all dogs with the 800 series tattoo number were going to Florida and that my number was going to Misawa, Japan.
The Commander proclaimed in annoying voice "what were not talking about furniture" this is a dog team and this is wrong.
Upon receipt of this information, I decided to leave the Air Force. SSgt's Arthur, Edwards, Linscott and Powell and their dogs of Safeside were assigned to Nixon's Florida white house to patrol the grounds. I believed at this time that only Safeside leadership was to be trusted and what happened to us to this day bothers me a great deal.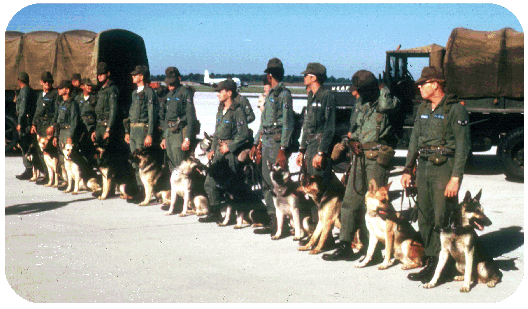 821st CSPS Scout Dogs and Handlers 1969 Fort Campbell
Sergeant Michael R. Clunis
821st CSPS (Safeside)
Scout Dog-Little Bear 874-M