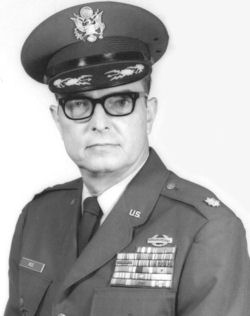 1. "I am very pleased to have this opportunity to express my appreciation for the valuable assistance provided the........by Lt. Col. Wise. Col. Wise's active pursuit and ultimate resolution of this matter is the hallmark of a truly professional officer." Major General, USAF, (NYANG) April 1971.
2. "I am pleased to forward the attached correspondence. It gives me considerable satisfaction to have a member of my staff so highly regarded by commanders in the field." Major General, Commander......Air Force Headquarters, March 1971.
3. "Lt. Colonel Wise's performance has aided this installation immensely. It is a pleasure to work with an officer of his caliber at higher headquarters. His dedication to his career and professional competence is evident in all relationships with his subordinate counterparts." Colonel, Commander.......Combat Support Group. March 1971
4. "I have known Bill Wise for about five years now, ever since our Air Staff days together. This acquaintanceship and the knowledge that he was the 9AF IGS made the idea of my becoming his 12AF counterpart a much more palatable prospect six months ago. I say this because I knew that there is not a more dynamic, knowledgeable and professional Chief in our career field, and that, as such, he would be available to help me over the rough spots. This faith has not been misplaced. Whether attending a conference together or merely discussing mutual problems on the phone, I have always found his counsel to be of great benefit to me." Lt Colonel, Chief Security Police......Air Force Headquarters. February 1971.
5. "Lt Colonel William H. Wise, with his vast experience in base defense, organization, equipment and training requirements, made significant and valuable contributions toward development of a new concept for providing security/defense for future Air Force mobility operations." Colonel, Hq USAF (Division Chief) Oct 1969.
6. "This display of professionalism by you and your personnel in the critical area of explosive safety brings credit upon yourselves and the Wing." Colonel, Commander......Wing, USAF, May 1969.
7. "It is a pleasure to receive and forward commendatory letters of this nature. The professional competence displayed by Lt. Col. Wise reflects to the credit of your Wing and to that of Tactical Air Command." Brig General, USAF, Inspector General. May 1968.
8. "Please accept my sincere appreciation for allowing the Academy to have the benefit of Lt Colonel Wise's knowledge and experience in the field of Air Base Security. From personal observation I can stated that his presentation to the current Third and Fourth Classes was received with a high degree of attention and interest. His knowledge of the subject and facility for expression left no doubt that he was an experty in his field." Brig General, Commandant of Cadets, USAF Academy, May, 1969.
9. "Upon your departure from the .......Air Base Complex, I want to express my appreciation to you and the members of your squadron for the guidance and assistance you furnished the ......Battalion.......Artillery in the security of the battalion base camp....The professional competence which your personnel exhibited during their normal duties was a source of inspiration to the members of the battalion." Lt. Colonel, USA, Commanding....Artilley Battalion, April 1967.
10. "I extend the hardiest of thanks to the ......Squadron for the invaluable assistance rendered the .....Battalion......Artillery during its stay at ........Air Base. The professionalism and esprit demonstrated by the .......brings great credit upon itself and the United States Air Force and provides the United States with an excellent organization to combat aggression." Lt Colonel, Commanding ....Battalion......Artillery. April 1967.
11. "Lt General.....who visited your facility at.....on.....has asked me to pass his appreciation and thanks for a very fine orientation. He was highly impressed with your operation and the demonstrations he saw." Colonel, Hq USAF, Oct 1966.
12. "Noting and forwarding correspondence of this nature to a member of the Directorate staff is always most gratifying. Having, on an earlier occasion heard of the excellence of this presentation I add once more my thanks for a creditable performance by Lt. Colonel Wise." Colonel, Hq USAF, Director. Mar 66.
13. "It is my pleasure to note the attached letter from the Commandant of Cadets at the Air Force Academy remarking on the excellence of recent briefings on......made by Lt Colonel William Wise to members of the Academy, faculty and staff." Lt. General, Hq USAF,Mar 1966
14. "The visit of Lt Colonel William H. Wise to the Air Force Academy on 17-18 February was received with enthusiasm. My sincerest thanks to Col. Wise for his knowledgeable presentations, and to you for allowing some time from his busy staff schedule." Brig General, Commandant of Cadets, Mar 1966.
15. "I want to express my sincere appreciation for your sending Major William H. Wise to our headquarters to discuss with us the implementation of ....... Major Wise's presentation and his question-answer period were outstanding. His efforts were characterized by professional knowledge and workmanship which made it a distinct privilege to do business with him, He should be heartily commended for his efforts." Colonel, USAF, Command Director. Ma4 1965.
16. "This headquarters has been advised of the reassignment of Major William H. Wise from......to....... Major Wise , during his tour of duty with ......has consistently provided guidance and rendered assistance to this Command and its echelons. This Command, therefore, desires to express appreciation and thanks to Major Wise for his commendable efforts and to wish him the best of luck in his new assignment." Colonel, USAF, Command Director. July 1964.
17. "I wish to commend you officially for the outstanding manner in which you performed your duties as an action officer in the Directorate. You exhibited a willingness to tackle any and all actions and labored tirelessly to complete papers, not only on duty time but at home as well. You exhibited a remarkable ability to handle expeditiously and efficiently the many varied queries from major air commands on interpretation of policy, the Department of Defense projects which were complex and cumbersome, the adjudication of board cases pertaining to......, and the writing of revised and new policy. Your initiative , tempered with intelligence and the ability to solve problems as they arose has been of real and continuing value in the accomplishment of our mission. The quality of your work has been outstanding. Your operational knowledge and quick grasp of policy matters blended to give you the know-how to produce consistently solid results. Your willingness to work unselfishly, your proven stature as a team worker , your sense of humor when working under pressure. Your loyalty to the career field and your supervisors, your integrity and devotion to duty were apparent in your day to day performance. Your overall professional competence has been of considerable value to this office." Colonel, USAF Division Chief. July 1964.
18. "The recent administrative investigation accomplished for this office by Major William H. Wise deserves special mention for its excellence. The investigation was outstandingly thorough and completely objective in every respect. The report was a model of clarity and contained well justified conclusions and recommendations. Major Wise's efforts have evoked laudatory comment from Lt General Ryan." Colonel, USAF, Executive, The Inspector General. Aug 1963.