SERGEANT, CANINE FIGHT TO RETURN HOME SAFE
by Tech. Sgt. Parker Gyokeres
23rd Wing Public Affairs
1/12/2007 - MOODY AIR FORCE BASE, Ga. -- The close relationship between a military working dog and his handler is crucial.
The dog knows his job is to find things his handler can't, protect his partner, and chase people down and attack when he gets permission. The handler is given the responsibility of safely employing, caring for and protecting an aggressive biting machine with the world's most effective bomb detector on its sharp end. The two make sure each other returns home safely.
Some days, this can be a very difficult job. Some dogs will nearly kill themselves serving their masters, their drive to perform is that powerful.
For Staff Sgt. Morgan Maul, 824th Security Forces Squadron military working dog handler, and Ajax, his 8-year-old German Shepherd, their recent deployment to Kirkuk, Iraq, was one that will affect them both for the rest of their lives.
Sergeant Maul was deployed with an Army infantry unit to assist with patrols, sweeps and raids. It was Sergeant Maul's first trip as a working dog handler, but Ajax was on his seventh trip to the desert. It was almost his last.
In the brutal heat of an August Iraqi day, Ajax was far from base on the third day of a planned two-day sweep mission and doing what he loved to do, look for explosives. "Ajax is a real passive dog when he's not searching, but work to him is like play," said Sergeant Maul. "He gets super excited and just goes crazy looking all over for explosives because he wants that toy. He loves the search."
The temperature was climbing past 115 degrees and Sergeant Maul was becoming concerned. He was having trouble keeping his partner cool enough to keep working on the search and inspection mission that could not stop for the animal to cool down.
The dog water in their Humvee became too hot to give to the dog. Sergeant Maul had already removed Ajax's ballistic vest, and had wrapped wet towels around the dog's back and shoulders.
As the heat of the day grew worse and the mission continued, Ajax grew more and more overheated. Sergeant Maul was already applying ice he got from the Iraqis onto the dog's armpits and belly at every opportunity, but still, Ajax was struggling to stay in the game.
Then disaster struck. The vehicle carrying Sergeant Maul and Ajax failed at the worst possible time. When the engine quit, the air conditioning went too, and Ajax began to lose his battle with the Iraqi summer heat. Ajax became ill, then collapsed.
Seeing his partner, protector and friend lose consciousness, Sergeant Maul made the call for medical assistance over the radio that every handler dreads.
"I knew it was time to call for help or Ajax would die," he said.
Sergeant Maul had received some training in basic veterinary medicine prior to their departure for Iraq. After his arrival, his Army supervisors made sure he practiced tasks like inserting an IV until it became second nature. By the time Ajax went down with heat stroke, Sergeant Maul had the skills he needed to save his life.
With Ajax lying on a stretcher alongside their dead patrol vehicle, surrounded by his concerned infantry team, his handler tried again and again to start an IV line. Ajax was so dehydrated that his leg veins had collapsed.
"Ajax was more dead than alive," said Sergeant Maul. "His pulse was so faint I couldn't feel it, and his breathing was very shallow; he was totally unconscious."
With the situation becoming critical and unable to get a direct line into his partner, Sergeant Maul resorted to a technique known as "saddlebagging." He began injecting small pockets of fluid directly into Ajax's soft tissues to get desperately needed fluids into his system.
The measure worked. Slowly but surely, Ajax began to awaken from his stupor. His eyes cleared up and he began to try to lift his head and look around. The troop commander soon arrived and after taking a look at the animal, called for an immediate aerial medivac or "dustoff."
Seven minutes after the captain called for a helicopter, Ajax was in it, flying full speed back to Kirkuk.
"I had the crew fly very low to keep the altitude change from giving him a gut twist called bloat," said the sergeant. "Seven minutes after that, we were landing and found a large team of veterinary assistants, medical technicians and our base vet waiting for us."
As Ajax began treatment, his condition quickly improved. With fluids and air conditioning, the danger soon passed. Nevertheless, it was a very close call.
"The vet estimated his peak temperature reached 106.7 degrees," said Sergeant Maul. "At 108 degrees, he would have suffered brain damage. Normal temperature for a dog is 102 to 105 degrees."
After a night in the hospital, he was released back to his handler with doctor's orders for a couple of weeks of light duty.
"He was in good spirits and the same dog as before, but he was very tired for a few days," said Sergeant Maul.
Ajax is back to his old self, but the experience has changed him physically.
"Doctors say he will be more prone to heat stroke than he was before," said Sergeant Maul. "We have to be much more careful with him now. But he's still very good at what he does."
After a month of rest and recovery, the first major patrol action saw Ajax and Sergeant Maul discovering the biggest weapons cache of their deployment.
"He's still got it, but I'm not sure how many more trips he's got in him," said Sergeant Maul. "He's beginning to show his age. Deployments are hard on dogs, and Ajax has been on seven of them. He's a bit stiff in the hips, and doesn't like to jump obstacles as much as he used to. But on the search, he hasn't slowed down even a bit."
If Ajax were to be retired, Sergeant Maul said he put his name on the list to adopt the dog and give him a nice quiet retirement.
"When he's not on the job, he just likes to be a dog; he enjoys being petted," said Sergeant Maul.
The pair have been through a lot together and it shows when the sergeant talks about the future for the old dog.
"If I'm not here when that time comes for Ajax to be retired and adopted, I'll come back for him," he added.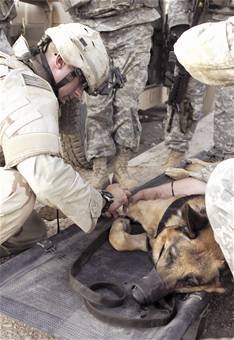 Man's best friend Military working dog bond Man's best friend Staff. Sgt. Morgan Maul, 824th Security Forces Squadron military working dog handler, works with a medical team to help revive his canine partner Ajax during a recent deployment to Kirkuk, Iraq. Ajax lost consciousness and nearly died after overheating from the Iraqi summer heat. (U.S. Air Force photo by Tech. Sgt. Parker Gyokeres)