K-9
FROM VIETNAM TO IRAQ & STILL LEADING THE WAY
Hello Pete,
Well, I'm finally getting squared away from our wonderful trip to Valdosta! First and foremost, let me say once again how much I enjoyed seeing you and your wife – you both are such great people.
OK, I promised I'd get you up to speed on what our Thailand Handlers are doing in support of the 823rd SFS K-9 section now stationed at Kirkuk, Iraq. Several months ago, I made contact with TSgt Jason Somers, Kennelmaster, 506th ESFS (822nd deployed) concerning supplies that they had inquired about concerning their dogs at the Kirkuk kennel. One thing led to another and there we were – old dawg handlers helping our modern day handlers with the same old type of problems that we hand encountered over thirty years ago.
We jumped all over the effort and made sure that their kennels were provided the equipment that they needed (approximately $500.00 worth of Guardian cots, cooling mats, watering devices, and grooming equipment) to ensure the proper working conditions for their K-9 teams. We are now on stand by to make sure the supply line doesn't get kinked again during their deployment.
Once we had the equipment enroute, we started on another program that we have been operating for some time – "Old Dawgs and Pups" – that's were we match up our old guys with the modern K-9 troops of today. We have been operating this program for over three years now.
TSgt Somers hooked us up with himself, his Trainer/Supervisor, and five additional handlers. Immediately, we assigned fourteen of our veteran handlers (Previously assigned to Ubon, Takhli, Korat, Udorn, and U-Tapao) from nine different states to communicate with the handlers of the 823rd.
The teaming of old dawgs and pups centered on the 823rd handler's home state or our handlers close proximity to Moody AFB. I can assure you that everyone involved is having a ball – I understand that a few incidents of "stretching the truth" have been noted – both by the old and the young handlers! Who would have thought?
Thanks to the VSPA reunion, we were able to make contact with the 822nd and 824th K-9 section supervisors and handlers who will be relieving the 823rd at Kirkuk upon their rotation. This helped us set the ground work to make sure we have a lasting bond to the personnel of the K-9 sections of the 820th regardless of where they are deployed. We have already met with the Kennelmaster of the 822nd and the 824th, and once we gave them one of our challenge coins and an adult beverage – we got down to business to make sure this relationship was cemented! Many of them joined us in the hospitality room area during the reunion – they were the "young ones in our group"!
I am very proud to say that our "old dawgs" and the members of the 820th are "Good to go" and we promise to be there to support them.
It was such a wonderful surprise to find out that their heritage spawned from Safeside! As you know, Safeside and K-9 have always been loosely connected, and we have certainly made a number of friends between the two organizations during the last three reunions – starting at the 2003 reunion for many of our handlers. I just couldn't think of better company for "my" handlers to have than Safeside.
One final thought – I believe that these young men and women are truly carrying on the traditions and following in "our" footsteps as they pave the way to the future as they make history for the 820th. We are so proud of them and just to know that both of our organizations are supporting these young troops really makes me proud – I'm sure that you feel the same way.
I've attached a photograph that I just received from TSgt Somers. It is SrA. Amon and canine Rita, taken through a night scope – it is cool or what?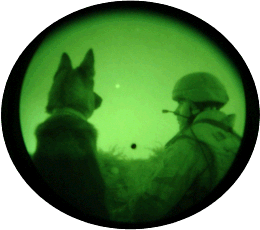 Pete, if you think that the members of Safeside would be interested in the situation, we would love to have this information available on your website. If any of your members would like additional information – please do not hesitate to contact me and I will get back to them almost immediately.
OK Ranger – I hope this helps to let you know what we are doing. I promise to keep you in the loop concerning the K-9 troops under the 820th – if there is anything that we can do to ensure that the bond between Safe Side and K-9 continues – just give me a growl.
As always, out front and on the wire,
Bill Cummings - Life Member # 173
VSPA - Kennel Master
635th SPS - K-9 Brutus X321
U-Tapao RTAB 1970-1971