Early in 2006 Pete and Gloria Villarreal (USAF - 822nd SPS Safeside Association) were notified that a young lady from their area had started collecting shoes for the needy. The Villareal's then contacted TSgt Sherrie Conkright (506th/822nd K-9 SFS/Kirkuk Air Base Iraq) who they had been in contact with via an ongoing program that supported our deployed troops. After being contacted by TSgt Conkright, the 506th SFS Commander, Operations Officer, and the Patrol Master viewed the program as an opportunity to provide shoes for the local Iraqi children.
Approximately 300 pairs of shoes were shipped from North Pole, Alaska, along with another 70 pairs from TSgt Conkright's local church in Valdosta Georgia. The shoes were sorted by sizes for toddlers, boys, and girls and then transported to the 506th SFS patrol element. The first stop for the "Shoe Drop" was Dipak, The 822nd SFS patrol, 101st Airborne Brigade, and the Iraqi Army set up and then distributed the shoes to the children of the city. SSgt Joshua Hicks (506TH SFS K-9) joined the project to photograph the event on April 25, 2006.
The second mission of the Operation Shoe Drop took the project to Kallid City where once again shoes were distributed to the children while they attended school.
As this article is published, TSgt Conkright is awaiting another shipment of approximately 400 pair of shoes to present to the local Iraqi families. TSgt Conkright is the "spoke" of the project as she works with Villarreal's and the Squadron Leadership. The local children were very appreciative of the shoes as you can see in the photographs below. Once again, the 822nd is out in front – leading the way as they build on their heritage. It should be noted that TSgt Conkright is support by Pete Gloria Villarreal and Mike Clunis via the "K-9 Supply Program" of the Thailand Dog Handlers.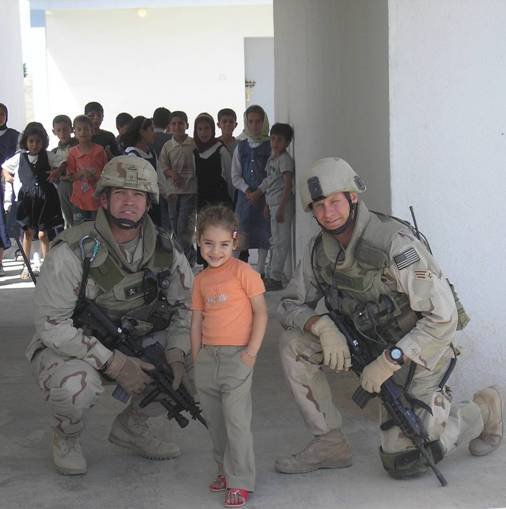 Capt Borders and SrA Goliglowski (506th/822nd SFS – Kirkuk Air Base)
A young Iraqi child displaying her new shoes.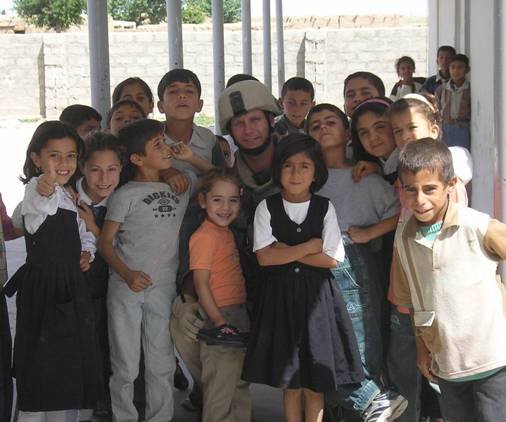 SrA Goliglowski (506th / 822nd SFS - USAF) and Iraqi children at presentation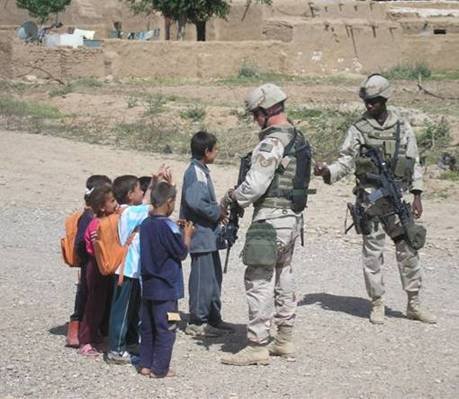 SSgt Fisher and SrA Whithers (506th / 822nd SFS - USAF)
with Iraqi children during the Shoe Drop
Article written by Bill Cummings of the Thailand K-9 Association.
No Safeside Association funds were used to fund this project, it was funded by Pete & Gloria Villarreal,
TSgt Sherrie Conkright and others.