"Technical Sergeant Jamie Dana"
On June 25, 2005, TSgt Dana and her military working dog (MWD) were on patrol in the town of Kirkuk Iraq with the US Army 116th CAV (42 ID) when her HMMWV made contact with an improvised explosive device (IED). Kirkuk is located approximately 150K north of Baghdad. Upon making contact with the IED, her vehicle rolled over three times before coming to rest.
She sustained serious head and bodily injuries as well as injuries to internal organs. TSgt Dana was the most severely injured of the four passengers in the vehicle. Those injured included:
Driver - Knee and facial lacerations, non-serious, treated and released at Kirkuk.
Passenger Front - Fractured finger and facial lacerations, non-serious, treated and released at Kirkuk.
Gunner - Head and neck injuries, medevaced from Kirkuk to Balad, further transported to Landstuhl.
Driver Rear - TSgt Dana, Jamie
Passenger Rear - MWD Rex - Minor abrasions to leg, no further injuries.
TSgt Dana arrived at Walter Reed Army Medical Center in Washington DC on July 3, 2005. Her condition has been downgraded from CRITICAL to SERIOUS. Her husband, mother and father are with her. Her MWD, Rex, is currently at Kirkuk awaiting transport to Andrews AFB MD where he will be near Jamie. She remains in the ICU at Walter Reed. Her family is staying at a local hotel. A female, MWD Handler assigned to the 89th SFS at Andrews AFB MD, has been appointed as her Family Liaison Officer.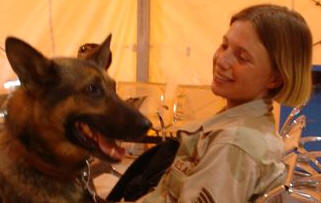 Jamie & Rex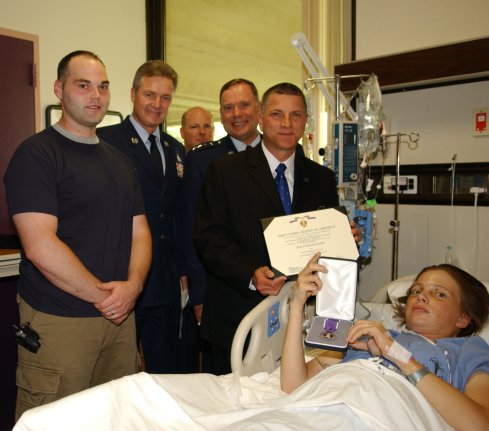 Airman presented Purple Heart
WASHINGTON (AFPN) -- Technical Sergeant Jamie Dana was presented the Purple Heart on July 22 by (from right) Michael L. Dominguez, acting secretary of the Air Force, Air Force Chief of Staff Gen. John P. Jumper and Chief Master Sergeant of the Air Force Gerald R. Murray, as her husband, Mike, stands by.
Sergeant Dana was wounded when an improvised explosive device struck the Humvee she was riding in Southwest Asia.
She is a military working dog handler with the 21st Security Forces Squadron at Peterson Air Force Base, Colorado.
(U.S. Air Force photo by Mickey Sanborn)
If you would like to contact Jamie use the address & phone # below
TSgt Jamie Dana
Walter Reed Army Medical Center
Ward 68, Room 6842
6900 Georgia Avenue NW
Washington D.C. 20307
Phone (202) 782-1668
Safeside Association, VSPA and AFSPA, have already begun to raise funds to give aid and assistance to her and her family, right now VSPA is in the lead with donations.
Please send your donations to Ted Wright (Safeside Treasurer) make checks payable to Ted Wright.
Safeside Association letter to TSgt Jamie Dana"
Below is the letter sent to Jamie by Sgt Michael R. Clunis who was spearheading the drive to collect money to help Jamie and her family in their time of need. Thanks Ranger Mike and thanks to all who gave.
Jamie,
Hope this letter finds you on the road to recovery; stay strong, stay determined, stay positive. I represent the SafeSide Association. We are made up of combat security police veterans and security force veterans from Vietnam and Iraq. One of my favorite members is SSgt Sherry Conkright. She is a veteran of Iraq and a dog handler, and just in case you don't know, dog handlers are the best there is, the finest troops in the military.
Rex, is an absolutely beautiful and magnificent looking dog that displays all of the qualities of the German Shepherd. You and Rex will soon be reunited, I would love to see this. I handled Scout Dog, Little Bear 874-M. I miss him to this day and that was thirty-five (35) years ago. He was also a German Shepherd. The bond between handler and dog lives forever.
In closing let me share our feelings of you and Rex, and the troops you serve with, the magnificent courage that is displayed daily and the sacrifice that is made. You have earned the title Veteran and are truly America's best.
Our membership is honored by your monumental service to our country and offer this donation to you. You and your family occupy a place in our hearts and we pray for your total recovery.
Michael R. Clunis
Safeside Association

​
Photo of Scout Dog Little Bear 874-M